Introduction
The Customer's request
'We want a fully reliable process, so that we can produce our dishwasher and washing machine capsules as predictably and efficiently as possible,' says Arend van der Sluis, CEO at Tembo Group. This is why TRICAS took the initiative at an early stage to develop a smart environment especially for Tembo, in which data about (air) humidity, temperature and vacuum values during the production process are collected, analyzed and used again to optimize the production of capsules. Tembo is looking forward to the implementation of the smart environment. Thanks to TRICAS' knowledge-driven and proactive attitude, we will be able to take some great steps in the future.'
Process
TRICAS' approach
The collaboration between Tembo and TRICAS goes back years and therefore TRICAS has deep understanding of the challenges and opportunities Tembo has.
We know the production process by which dishwasher and washing machine capsules are produced and we have insights into the delicate balance between the various production parameters, such as material properties, (air) humidity, temperature and vacuum values. Moreover, we are aware of the desire to develop a more reliable system. We know from experience that gathering data from the production process can contribute to the predictability and efficiency of the system. To this end, it is important to make the system "smart" by collecting essential process and product data via sensor modules and using this data for real-time optimization of the production processes.
Process
Research
Since we at TRICAS have experience with many different sensors and the different ways these sensors can be implemented, we are taking the initiative to develop a smart environment for Tembo.
At the start of the project, we investigated which functionalities are essential in order to increase the efficiency of the production process of dishwasher and washing machine capsules. The fact that we want to look at these processes in a cavity the size of a dishwasher cube requires miniaturization. Therefore, using our knowledge of consumer electronics, among other things, we develop and integrate microsensors into the cavity.
Process
Concept
Based on the selected functionalities from the preliminary study, our multidisciplinary team develops multiple integrated demonstrators of these data enabling technologies.
The demonstrators show that we are able to accurately measure important parameters in real time, such as humidity, temperature and vacuum values. With these demonstrators we simulate and validate the final process with our smart modules in a lab environment.
In close collaboration with the client, we define and develop protocols for data processing. In doing so, we directly link the data from the sensor technologies to the data management system of the machine platform. This enables Tembo to adjust the production process based on the real-time data from the developed smart modules.
Process
Solution
After the smart modules are approved in a lab environment, TRICAS integrates the intelligence into existing production tools.
enabling Tembo to upgrade its dishwasher and washer capsule production to a smart, innovative and digital environment. This development allows Tembo to monitor and predict the production process in real time.
In the next steps, we will use the data to simulate and predict the product development process of the dishwasher and washing machine capsules. Our objective is to realize a digital twin environment, where we link the virtual models fed with real-time data to the process and the physical end product and the innovation process can be optimized.
Process
The results
'This contribution from TRICAS means a big step forward for us in terms of digitalization,'
says Arend van der Sluis of Tembo Group. 'When the smart system is actually integrated, we will be able to outperform our competitors thanks to excellent machines. Moreover, we will create additional value by generating data for future business models and innovations for the value chain.'
'As far as I am concerned, the proactive and knowledge-driven attitude is a great added value of TRICAS. The employees of this unique company not only have an enormous amount of knowledge about product design, sensors, materials, devices and trends, they also want to gain new knowledge every day, which is why they ask the right questions and give both solicited and unsolicited advice. In my view, curiosity is the foundation of innovation. TRICAS' curious attitude helps us to continuously optimize our production system. As a result, we are always ready for the future.'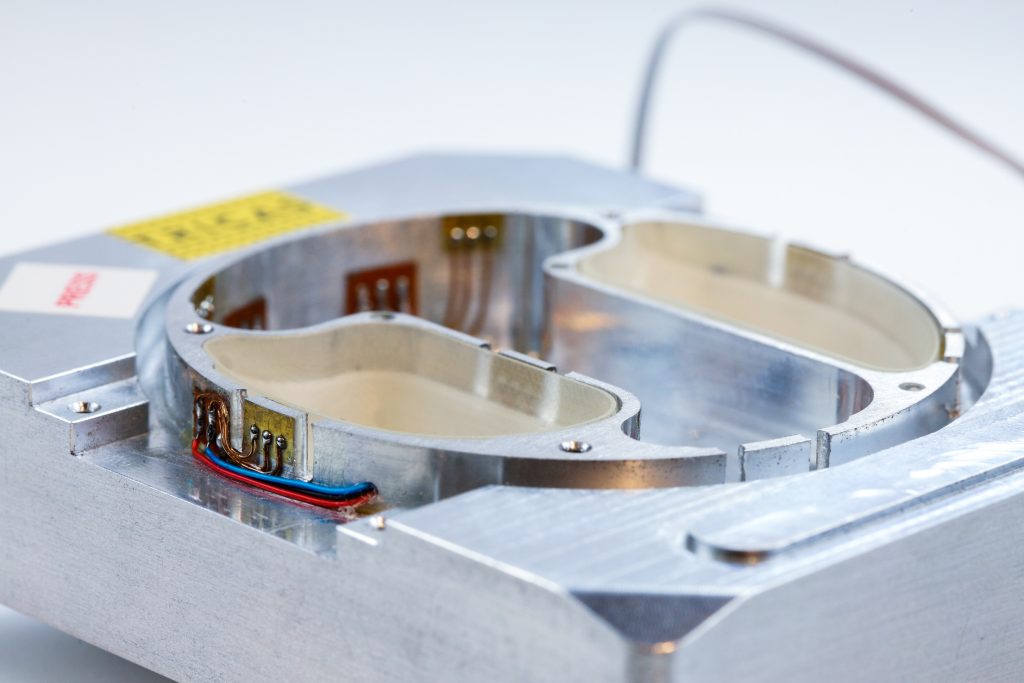 Smart Cavity