Hygiene caps
For the MULTI/JOINT® 3000 Plus joints
Commissioned by Georg Fischer, TRICAS has developed the hygiene caps for the MULTI/JOINT® 3000 Plus joints.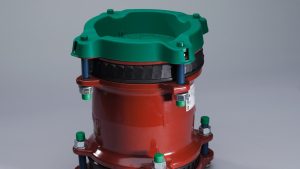 Solution
For keeping the joints clean
The drinking water and gas companies requested Georg Fischer to think about a solution for keeping the joints clean in the whole process from delivery to end usage. By applying the hygiene cap, dust and dirt at repositories and construction sites can no longer reach the housing of the joint. Because of this, the joint stays clean until the slot.
The cap has more advantages beside the hygiene aspect. The cap protects the coating against damage and it eases the assembly of the joint. The geometry of the innerside of the cap functions as a assembly tool for positioning the joint bolts.
Thanks to the cap, joints are more stackable, which saves space. Once on location, the cap can easily be removed.
The cap is made of recyclable PP material. This material has a low energy consumption and a favorable Carbon Footprint. Furthermore, the caps can be eliminated seperately with other plastic waste for recycling.
Compliant
Joints
The caps are compliant with the following joints: DN50, DN65, DN80, DN100, DN125, DN150, DN200, DN225, DN250 and DN300.